Summer Earth Education Program
Grouped in clans such as the Roaring Rockhoppers or the Tree Clan, participants in our Summer Earth Education programs (SEEP) explore together, study together and play together in the forests, freshwater and marine environments of the Gulf Islands. Components of the Gulf Islands National Park Reserve, Burgoyne Bay Provincial Park as well as regional and community parks found on each of Salt Spring, Pender, Mayne and Saturna islands are the venues for the 2010 programs. The clans create their identity and build forts which are their base of operations for the week-long programs. Using rotations and activity centres, participants have hands-on experience in understanding forest ecosystem dynamics, multi-sensory explorations, bird communities, food chains and food pyramids, animal behaviour, energy flows in ecosystems, journaling and self-reflection. Specifically designed games to re-enforce the concepts and activities have children role-playing as prey, predators, salmon, and orcas, to name a few.
Specific studies are done on forest decomposition and the soil cycle, intertidal zonation and freshwater aquatic organisms' lifecycles. Each island program includes sessions led by specialists in certain fields including forest bird communities, forage fish ecology, watershed dynamics and salmon survival, as well as First Nations storytelling and use of resources. Participants also spend time collecting, identifying and recording various organisms found within forest, freshwater and marine ecosystems according to their place in the food chain.
Music is an integral part of each day's opening and closing ceremonies in which the participants learn new songs about the natural world around them. At the end of the week's program, individualized certificates of achievement are presented to each participant at our closing ceremony.
This PDF file details a typical day with GICEL.
Summer 2018 Programs – Registration now open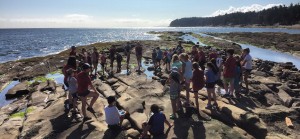 ---
 Mayne Island Programs
Summer Earth Education Program (6-12 year olds) – Contact: Sky Losier
Mayne Island Seedlings Program (3 – 5 year olds) – Contact: Tina Farmilo
---
 Pender Island Programs
Summer Earth Education Program (6-12 year olds) – Contact: Andrea Mills
---
Saturna Island Programs
Summer Earth Education Program (6-12 year olds) – Contact: Sky Losier
---
Salt Spring Island Programs
Summer Earth Education Program (6-12 year olds) – Contact: saltspring@gicel.ca
---
Cortes Island Programs
Environmental Leadership Apprentice Program (13 – 17 year olds) – Contact: Sky Losier
Click photos below to enlarge: