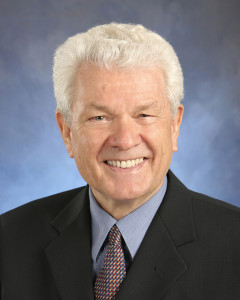 Desmond is a leader of new thinking for a sustainable future. In his career in government and business he has always brought a lively and diverse perspective to his work.  Now largely retired from professional activity, he remains engaged in the promotion of his body of work, including publications of futuristic fiction and ethical leadership.
Desmond holds a Ph.D. in Educational Administration from the University of Alberta and a BA from the University of Queensland. He is President of Creative Learning International, which he co-founded with his wife and business partner, Dr. Geraldine Schwartz, in 1988. Desmond is also Vice-President of the Vancouver Learning Centre, which provides rehabilitation services to children and youth with learning difficulties. Desmond's professional career includes 11 years, from 1977-88, as Assistant Deputy Minister of Advanced Education with the Government of Alberta. He has represented Canada internationally through the Council of Ministers of Education, Canada and the United Nations Educational Scientific and Cultural Organization (UNESCO).
A lifetime of experience in teaching, government service and entrepreneurial work in business brought him to Vancouver, Canada, where he now makes his home. As well as his other responsibilities Desmond is Chairman of the International Foundation of Learning and Co-founder of the Institute for Ethical Leadership. Both of these organizations are committed to acting to raise the quality of human interaction towards peace and sustainability.  In 2002 the Institute for Ethical Leadership nominated GICEL as an example of ethical leadership for the environment and Desmond agreed to serve on the Board to reflect that commitment.